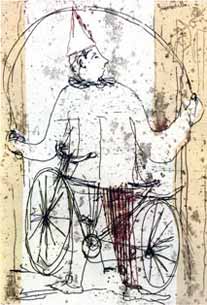 His etchings of 1943-44, dedicated to freedom and referable to the resistance art, make us understand how intense and deep is the feeling with which he tries to study and understand the human condi­tion: in them there is Bronte with his perennial yearning for freedom, inde­pendence and justice.
Among his most significant works we remind of "Panic on the Etna" (dry point of '45 and oil of '47), "The conjurer" (of '74), "Woman to the mirror" (oil of '77), "Moments to the circus" (it does part of a series of big pictures in oil of 1978 dedi­ca­ted to the circus and the clowns), "The Paladins" (five etchings to six colors of 1971), "Dead nature with fish" (oil of '77) and the other moving works dedicated to flowers, to seagulls, to farmers and to landscapes.
Always determined and determined in constantly devising new initiatives, teaching and intense artistic activity (he was, as said, also set designer and costume designer), Nunzio Sciavarrello has also joined a constant social commitment, of which Bronte was not a stranger.
Among the many initiatives that deserve to be mentioned are the "Exhibition of Bronte's Artists of Yesterday and Today" (Collegio Capizzi, 1973) and the International Sculpture Symposium with the theme "La Liberta", held in the premises of the Nelson Castle from 27 September to 7 October 1990.
The sculptures created by artists from around the world now make up the first open-air museum of lava stone sculptures.
His last enlightened and courageous initiative was to raise a public Art Gallery in Bronte (to which he donated hundreds of works from his collection) and an attached restoration school to be hosted in the premises of the Real Capizzi College.
After more than ten years of solicitations and constant effort, the works were concluded in 2010, the Pinacoteca was named after Nunzio Sciavarrello and inaugurated in October in the same year.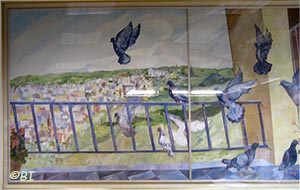 The contrasted landscape of Bronte, his churches, the small streets and the houses with their lively colors and the flowery balconies were often the favo­rite subjects of the etchings or some paintings of Nunzio Sciavarrello.
A large painting, with doves in flight and a wonderful view of the country taken from the top of Monte Colla, adorns and lights up the gray salon of Banca Mutua Popolare in Bronte.
At the headquarters of the same bank (now Banca Popolare Italiana) there are also five etchings of the "I paladini" series and other important works by the master Sciavarrello (I clown, etc.).
It is worthwhile to join the bank just for this!